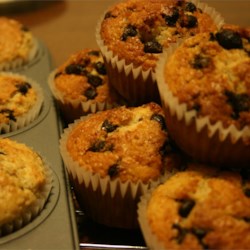 These are light and delicious
oatmeal chocolate chip muffins
which are exactly like the cookie, but light, fluffy and muffinesque (which is good since they are muffins after all.) The key to these light, airy piles of deliciousness is letting the oatmeal soak with the milk for awhile. I also think that you could very easily sub the chocolate chips for something more nutritional like ripe raspberries (it is fall, after all) or apples or even dried cranberries or cherries. They are delicious!
I also have to report that I made
Uma's Spinach and Prosciutto Lasagna
. I was totally inspired by the recipe and excited by Trader Joe's No Boil Lasagna Noodles (insert product placement jingle right here because they are a-mazing). I even made my own sauce and had fresh spinach. I had high expectations.
Unfortunately, I put in too many anchovies to the sauce (3), and too much sauce into the lasagna. (Apparently, you can use it pretty sparingly.) It turned out ok despite being a little runny and having a flavor that J tactfully described as "clam juice." I know, however, the next batch will be better.
But despite the taste, it did look exactly like the picture =)